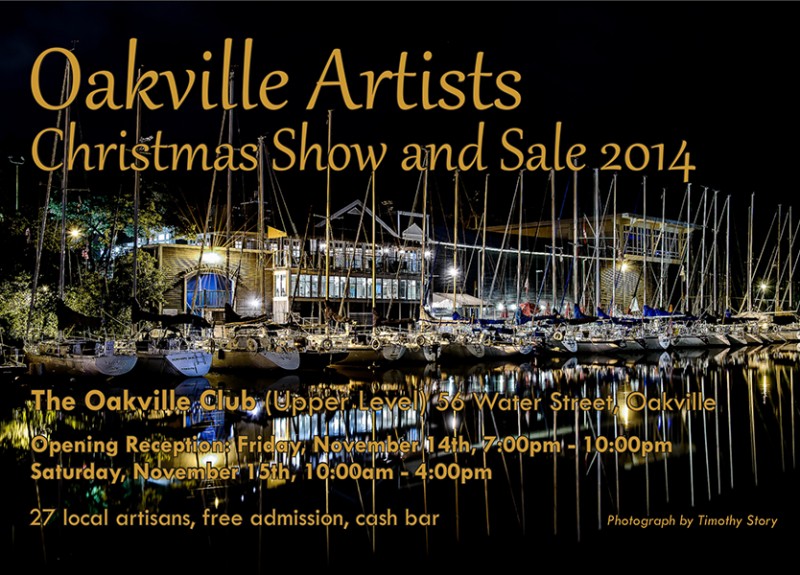 Join us for some early Christmas Cheer and Fine Art from Local Artisans.
Friday night, November 14th, 7:00 pm – 10:00 pm and Saturday, November 15th 10:00 am – 4:00 pm at The Oakville Club, upper level, 56 Water Street, downtown Oakville.
The show will feature 27 talented local artists ranging from mixed media, abstract, watercolour, oils, acrylics, photography, pottery, jewellery, stained glass and music.
Alicia Abma
Andrea Seibt & Pallina Beads
Asuman & Atanur Dogan
Berna Kilic
Brigitte Granton
Darlene Watson
Darlene J. Winfield
Dragonfly Designs
Inga Gircyte
Janice Ykema Art Page
Karin Lynn Cumming
Katherine James
Kathy Marlene Bailey
Kelly Giroux
Kristina Kirkwood
Laurel Best
Robert Boast Cornish
Susan Rousseau
Teresa Biagi
Teresa Thompson
 Pat Martin
Timothy Story
Tom Wray
Friday Evening – Music by Heart & Soul, Elvira V. Hopper & Darryl Joseph
Located along the banks of Sixteen Mile Creek, in the heart of Oakville.