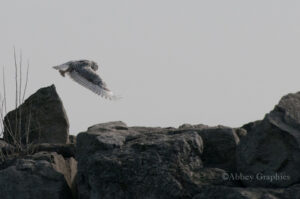 After hoping and waiting to see a snowy owl, we had that opportunity last Sunday. We were going for a walk down in Bronte Harbour, Oakville, Ontario and we had been told that someone had seen a snowy owl hunting seagulls in the harbour so we had to see for ourselves. We were able to find one perched on a rock. The seagulls were trying to annoy it and after a few tries it finally flew off its resting area. At that time we were able to photograph it in flight. Finally!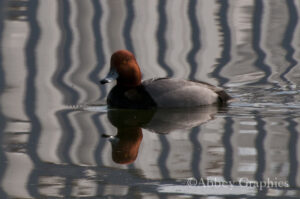 An other duck that we had never seen before was a couple of Red-Headed Ducks. They were quite shy but we were able to get a photograph of them as they swam by in the Harbour. Interesting vertical lines reflected in the water by the shed on the dock.
We were also able to photograph these two courting Red-Necked Grebes. Part of the courtship display is for the male to offer aquatic plants to the female. I guess the red maple leaf was all he could find floating by.